« April 2006 | Main | June 2006 »
May 19, 2006
humans are horses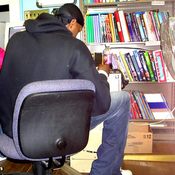 Just when I think I have my students all figured out, one of them surprises me. It is the end of a very long and difficult school year. The students are bored. I am bored. It is nice and sunny outside and there is a sale on Nike's at the mall downtown, only a few blocks away. The smell of bacon cooking from Sammies's on Main mixed with the aroma of fresh doughnuts from Dee Dee's slides in through the open window.
One of my special ed students is asleep at his desk humped over his US History packets - time for something different. I give him a writing assignment that I think will challenge him. I tell him to write a poem about humans and horses. It does not have to rhyme but it must have rhythm. (Teacher's say the dumbest things sometimes
Here is the poem he wrote in about fifteen minutes.
Humans are Horses
I walk they walk.
I eat so they eat.
I breathe so they breathe.
I drink they drink.
Where I urinate ouside is where they urinate outside.
When I talk they listen.
Why humans are horses.
How I learn is how they learn.
Humans have babies horses have babies.
Babies crawl on all fours horses move on all fours.
Horses drive wagons I drive a Mercedes.
Humans are horses.
I did a little snooping and discovered this was not the first poem he has written in my class. I found another on the hard drive after he left. It is a little more street than the first.
Sittin in School
Sittin in school
gotta a lot of money
Am so hot with a pocket full of dowty
Mind is gone
Am so gone
Look at my back
Slip my teacher a zone
Hoes on the phone
Trying ta get home
The only ride you catching is the 22 home.

Spring is the season when a young man's fancy turns to thoughts of amore. Here is one more he wrote.
Love
Love is a sensation
Caused by temptation
When a man sticks his inspiration
Into a woman's destination
To increase future population
Do you need more demonstration?
One night of pleasure
Nine months of pain
Then a baby is named
When a man say he love you
You think it's true
But when she says I'm pregnant
He says F*** You!

Greg is 19, no, he does not drive a Mercedes and, as far as I know, he does not have any children.... yet. There is one more thing you should know about Greg. Standing 6 feet 8 inhes tall, he is a tall drink of water and one of the kindest and gentlest young men I have ever met.
Posted by roadapples at 07:34 AM | Comments (12)
May 16, 2006
shivaree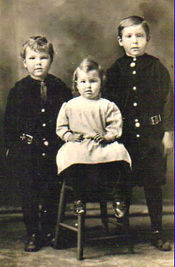 In my basement on an old bookcase back behind the furnace, sits a typewritten manuscript. On one hundred and thirty six single space pages is a story I have not read in more than a decade. I don't know exactly what made me search it out when I came home from a school concert at my daughter's middle school but here is a little bit. It is told by my grandfather Elvis's younger sister, great aunt Nettie. This episode is set in 1919.
---
One big event was my brother Elvis' wedding. After he returned from the Army, he helped dad on the farm for a season. But he was a man now and wanted to get out on his own. There was a neighbor girl with bright and shining eyes who was willing to help and so they were married at her parents' home.
Dad and mom did not go to the wedding but Elvis and Elsie came to our house to stay for a few days and there was a shivaree for them by the folks around the neighborhood.
For those of you who don't understand what a shivaree is, I will explain. A shivaree is a special party.
First, you have to notify everyone where the new bride and groom are spending their first night as a married couple.
Everyone takes some kind of noisemaker, including shotguns (with real shells) and all gather at a pre-arranged place. Then they sneak up to the house where the newlyweds are. Someone leads off with a shot from a real shotgun and then everyone else joins in whoopin', yellin', bangin', and shootin'.
They keep this up until the bridegroom opens the door and invites them in. Then they have a real party with games, loud talk and good wishes. The bride and groom pass around candy or something good to eat.
It was in the wintertime and long after dark. I don't know if the grownups were expecting it, but I surely wasn't. Such a noise I never heard. There must have been four or five guns and a lot of people out there in the dark. I was so scared that I began to cry. Then brother Bill and sister Beth started to cry. Elvis finally went to the door and opened it. Then I think we had more noise inside the house than out.
---
Aunt Nettie wrote these childhood recollections and many others in the early eighties when she was in her seventies.
She was a god fearin' woman who was fond of quoting the good book when she felt the need. One she wrote in this manuscript went something like this: "How firm the foundation, my faith in the Lord".
Put in a good word to Saint Peter for me, Aunt Nettie. I am going to need it.
NOTE: In this 1913 photo, Aunt Nettie is with brother Jack on her right and brother Bill on her left.
Posted by roadapples at 10:04 PM | Comments (6)
May 15, 2006
number 36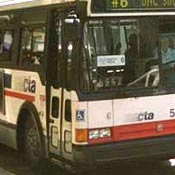 Like an embrace, the pungent smells of body odor and diesel fuel greeted me as I climbed aboard Chicago Transit Bus number thirty six heading downtown. I sat down close to the front near the driver. My youngest daughter sat close beside me; watching me; apprehensive but enjoying the adventure.
"Can you let us know when we get near Marshall Field's", I asked the women driver.
She nodded and gave me a smile.
I gazed around the inside of the bus. There was a poster extolling the advantages of safe sex and another offering free counseling from Planned Parenthood.
Seated on the bench that goes across the back, sat a whiskered old man with a large grimy grocery bag beside him. When our eyes met, he pulled the bag closer to him and looked away. I instinctively swung my left arm up and onto the back of my daughter's seat.
A young man in his twenties sat half way down on the opposite side. His long legs tumbled out into the aisle. His light brown face was expressionless and his eyes were closed. When the bus jostled to a stop at Clark and Wisconsin, he awoke suddenly and looked around. Upon seeing us, his eye brows furrowed with a look of concern. Slowly the tightness in his gaze melted into a warm but silent hello. He adjusted his headphones and went back to his nap.
At Clark and North, a young mother with two small children clamored on. After paying their fare, the bus rumbled on, causing the threesome to half stumble to empty seats.
I watched the young mother open her purse and hand each of her brood a sandwich bag filled with some sort of treat. They laughed and giggled as they watched the people on the sidewalk whiz by. Spotting us, they smiled and said, "hola".
I took my left arm away from the back of my daughter's seat and relaxed.
It was early on a recent Saturday morning and my family and I were in town to attend a fund raiser for the American Brain Tumor Association at Diversy Harbor Park, only a few miles north of the Loop. My wife, oldest daughter and a friend participated in the event (a three mile walk along the Lake Michigan shoreline). My youngest and I decided to take the bus downtown for a little sight seeing.
My daughters have only been on a city bus a few times in their sheltered young lives and never in the big city of Chicago. It was like a ride at Disneyland.
Posted by roadapples at 10:48 AM | Comments (2)
May 10, 2006
pineapple popsickles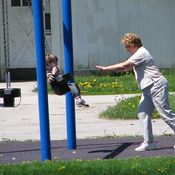 One mile from my home is a park. It is not an uncommon park. Every berg has one. It is where grandmothers go to swing young toddlers early in the day before the teenagers show up with their skateboards and high energy levels.
Where you can watch a good baseball game between the Cudahy Bacon Burners and the Wauwautosa Tractor Pullers.
It is also where the ice cream man goes to sell his frozen treats. When you see him, I recommend the pineapple popsicle.
Julie lives in a far away place across the big pond. No not Lake Michigan, I mean THE big pond. She has this challenge for couch potatoes like me. It goes like this: walk a mile from home every day and document it on a blog devoted to the challenge.
I accepted her offer without thinking of the consequences - the time, the pain, the frustrations of trying to come close to her wonderful illustrations. She is the master.
Here is her site - go and enjoy. One mile a day
You can click on the images to enlarge them.

Posted by roadapples at 09:46 PM | Comments (4)
May 07, 2006
nature callls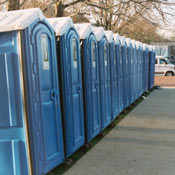 As I stood there entrapped by the involuntary need to void a body cavity of fluid waste, I suddenly became aware of hundreds of people milling around my plastic cubicle. Standing six feet tall, my head almost touched the ceiling so I could see my audience through the small holes in the air vents around the top of the port-a-potty.
Albeit they could not see me, I am certain they could hear any sounds of a flatulent nature that might have occurred while finishing my task.
My family was in Chicago yesterday to attend a fundraiser for the American Brain Tumor Association. It was a three-mile walk through one of the several picturesque parks that hug the shoreline of Lake Michigan in the Windy City. Registration was at 8:30 AM. The trip from Milwaukee was an hour and a half by automobile and I ingested a good deal of coffee during the trip. Upon arrival, I found it necessary to use a blue hut.
The episode reminded me of Tjilpi's marvelous description of his bush bidet. (Necessity IS the mother of invention.) In the middle of the wind-swept, fly infested Simpson Desert of the Australian Outback, he can, at least, take a crap in peace while squatting inches above the sand. In the middle of Diversey Harbor Park, I had to share the experience with all manner of human kind.
But civilization does have its advantages. I overheard a good joke coming from the outside while I was putting everything away. It went something like this:
I'm in a bar, having a few drinks, when I realize I gotta take a leak. So I go into one of the restroom stalls, and moments later, the guy in the next stall, says "Hi. How's it goin?" So, I go "Uhhh, all right." A couple of seconds later he says, "What are ya doin tonight?" So, naturally I replied, "Just havin' a couple of beers, and then I'm goin home." The next thing he says is, "Listen, I'll call you back later. There's an idiot in the next stall, answering everything I say."
Posted by roadapples at 06:09 AM | Comments (5)
May 02, 2006
1 equals 2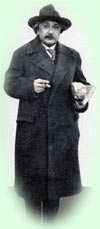 Albert Eistein once said, "The only thing that interferes with my learning is my education." That's the buga-boo.
My students did not believe me when I told them that, using Algebra, I could prove that 1 equals 2.
Picking up a stubby piece of chalk, I aproached the black board and scrawled the proof below. Then I asked the students to consider each step very carefully.
I challenged them to prove me wrong. Can you?
Posted by roadapples at 12:04 PM | Comments (10)