« pineapple popsickles | Main | shivaree »
May 15, 2006
number 36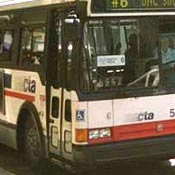 Like an embrace, the pungent smells of body odor and diesel fuel greeted me as I climbed aboard Chicago Transit Bus number thirty six heading downtown. I sat down close to the front near the driver. My youngest daughter sat close beside me; watching me; apprehensive but enjoying the adventure.
"Can you let us know when we get near Marshall Field's", I asked the women driver.
She nodded and gave me a smile.
I gazed around the inside of the bus. There was a poster extolling the advantages of safe sex and another offering free counseling from Planned Parenthood.
Seated on the bench that goes across the back, sat a whiskered old man with a large grimy grocery bag beside him. When our eyes met, he pulled the bag closer to him and looked away. I instinctively swung my left arm up and onto the back of my daughter's seat.
A young man in his twenties sat half way down on the opposite side. His long legs tumbled out into the aisle. His light brown face was expressionless and his eyes were closed. When the bus jostled to a stop at Clark and Wisconsin, he awoke suddenly and looked around. Upon seeing us, his eye brows furrowed with a look of concern. Slowly the tightness in his gaze melted into a warm but silent hello. He adjusted his headphones and went back to his nap.
At Clark and North, a young mother with two small children clamored on. After paying their fare, the bus rumbled on, causing the threesome to half stumble to empty seats.
I watched the young mother open her purse and hand each of her brood a sandwich bag filled with some sort of treat. They laughed and giggled as they watched the people on the sidewalk whiz by. Spotting us, they smiled and said, "hola".
I took my left arm away from the back of my daughter's seat and relaxed.
It was early on a recent Saturday morning and my family and I were in town to attend a fund raiser for the American Brain Tumor Association at Diversy Harbor Park, only a few miles north of the Loop. My wife, oldest daughter and a friend participated in the event (a three mile walk along the Lake Michigan shoreline). My youngest and I decided to take the bus downtown for a little sight seeing.
My daughters have only been on a city bus a few times in their sheltered young lives and never in the big city of Chicago. It was like a ride at Disneyland.
Posted by roadapples at May 15, 2006 10:48 AM
I have not been on a bus in about 10-12 years, but they are great places to people watch, as you discovered.
Posted by: kenju at May 15, 2006 02:09 PM
We are going to use public transportation this summer during a trip. Our kids have never been on a metro, so that will be an eye-opener for them.
Posted by: euclid at May 16, 2006 01:43 AM