« number 36 | Main | humans are horses »
May 16, 2006
shivaree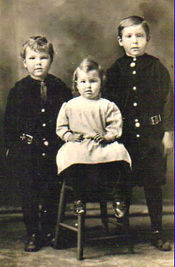 In my basement on an old bookcase back behind the furnace, sits a typewritten manuscript. On one hundred and thirty six single space pages is a story I have not read in more than a decade. I don't know exactly what made me search it out when I came home from a school concert at my daughter's middle school but here is a little bit. It is told by my grandfather Elvis's younger sister, great aunt Nettie. This episode is set in 1919.
---
One big event was my brother Elvis' wedding. After he returned from the Army, he helped dad on the farm for a season. But he was a man now and wanted to get out on his own. There was a neighbor girl with bright and shining eyes who was willing to help and so they were married at her parents' home.
Dad and mom did not go to the wedding but Elvis and Elsie came to our house to stay for a few days and there was a shivaree for them by the folks around the neighborhood.
For those of you who don't understand what a shivaree is, I will explain. A shivaree is a special party.
First, you have to notify everyone where the new bride and groom are spending their first night as a married couple.
Everyone takes some kind of noisemaker, including shotguns (with real shells) and all gather at a pre-arranged place. Then they sneak up to the house where the newlyweds are. Someone leads off with a shot from a real shotgun and then everyone else joins in whoopin', yellin', bangin', and shootin'.
They keep this up until the bridegroom opens the door and invites them in. Then they have a real party with games, loud talk and good wishes. The bride and groom pass around candy or something good to eat.
It was in the wintertime and long after dark. I don't know if the grownups were expecting it, but I surely wasn't. Such a noise I never heard. There must have been four or five guns and a lot of people out there in the dark. I was so scared that I began to cry. Then brother Bill and sister Beth started to cry. Elvis finally went to the door and opened it. Then I think we had more noise inside the house than out.
---
Aunt Nettie wrote these childhood recollections and many others in the early eighties when she was in her seventies.
She was a god fearin' woman who was fond of quoting the good book when she felt the need. One she wrote in this manuscript went something like this: "How firm the foundation, my faith in the Lord".
Put in a good word to Saint Peter for me, Aunt Nettie. I am going to need it.
NOTE: In this 1913 photo, Aunt Nettie is with brother Jack on her right and brother Bill on her left.
Posted by roadapples at May 16, 2006 10:04 PM
Ah, things like that used to be done while I was growing up as a kid in my area. But now, I think it would be treated as disturbing the peace.
Posted by: Tim Rice at May 17, 2006 06:55 PM
How nice it is that you have her account of things gone by.
Posted by: kenju at May 18, 2006 01:53 PM
think i was 11 before i realized that shotguns were used for things other than signalling moments of special occasion. good for weddings, wakes and (especially) the new year. oh yeah, couple days in july, varied by which side of the border.
Posted by: kim

at May 18, 2006 04:44 PM
Seems like you had an aunt who liked to blog...
Posted by: Tjilpi

at May 19, 2006 04:28 AM
What a legacy to have and to hold. I wish I had recorded my grandfather's many stories when I had the chance. And it's nice see that the ability to spin a yarn runs in the family.
Posted by: Jennifer at May 19, 2006 07:07 AM
Tim: I think you might be right if it is done in the city but in some parts of rural America this charming tradition is still practiced.
Yes Jen and T, I think if Aunt Nettie were here today she would have a blog of her own. I am just helping her out.
Kim: I remember another purpose for firearms. When I was in Alaska building a Cable TV system, I remember there was a old homesteader who decided to help one of our cable installers by blowing a hole in his outside wall with a nine millimeter. The hole was way too big so after the installer ran the cable wire through the hole, he had to use a pound of sealing putty to seal the opening.
Posted by: road apples

at May 20, 2006 04:31 PM