« shivaree | Main | hemingway: a short conversation »
May 19, 2006
humans are horses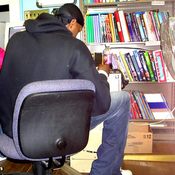 Just when I think I have my students all figured out, one of them surprises me. It is the end of a very long and difficult school year. The students are bored. I am bored. It is nice and sunny outside and there is a sale on Nike's at the mall downtown, only a few blocks away. The smell of bacon cooking from Sammies's on Main mixed with the aroma of fresh doughnuts from Dee Dee's slides in through the open window.
One of my special ed students is asleep at his desk humped over his US History packets - time for something different. I give him a writing assignment that I think will challenge him. I tell him to write a poem about humans and horses. It does not have to rhyme but it must have rhythm. (Teacher's say the dumbest things sometimes
Here is the poem he wrote in about fifteen minutes.
Humans are Horses
I walk they walk.
I eat so they eat.
I breathe so they breathe.
I drink they drink.
Where I urinate ouside is where they urinate outside.
When I talk they listen.
Why humans are horses.
How I learn is how they learn.
Humans have babies horses have babies.
Babies crawl on all fours horses move on all fours.
Horses drive wagons I drive a Mercedes.
Humans are horses.
I did a little snooping and discovered this was not the first poem he has written in my class. I found another on the hard drive after he left. It is a little more street than the first.
Sittin in School
Sittin in school
gotta a lot of money
Am so hot with a pocket full of dowty
Mind is gone
Am so gone
Look at my back
Slip my teacher a zone
Hoes on the phone
Trying ta get home
The only ride you catching is the 22 home.

Spring is the season when a young man's fancy turns to thoughts of amore. Here is one more he wrote.
Love
Love is a sensation
Caused by temptation
When a man sticks his inspiration
Into a woman's destination
To increase future population
Do you need more demonstration?
One night of pleasure
Nine months of pain
Then a baby is named
When a man say he love you
You think it's true
But when she says I'm pregnant
He says F*** You!

Greg is 19, no, he does not drive a Mercedes and, as far as I know, he does not have any children.... yet. There is one more thing you should know about Greg. Standing 6 feet 8 inhes tall, he is a tall drink of water and one of the kindest and gentlest young men I have ever met.
Posted by roadapples at May 19, 2006 07:34 AM
Then the last poem must be wishful thinking....LOL
Posted by: kenju at May 19, 2006 04:23 PM
And talented. It must feel strange to teach one of his talent. Will teaching undo what he does so well?
Posted by: meg at May 19, 2006 05:57 PM
Like I said Judy, it is springtime.
meg: I always thought your name was meg but it just hit me. MEG is your initials. I kept wondering why everyone called you Michelle (my belle). Well duh. but anyway, yes, when I come across a gem like this I try not to do any harm. I just provide encouragement and copious amounts of praise.
Posted by: road apples

at May 20, 2006 05:03 PM
At 6'8" and in Special Ed I would wonder about Klinefelters...
Posted by: Tjilpi

at May 20, 2006 07:57 PM
Funny I thought it was Kleinfelter's...checked spelling on Google....came up with Kline...and then after I posted my comment checked again and got Klein...I'd better go to wikipedia next...
Posted by: Tjilpi

at May 20, 2006 08:00 PM
Wow. You just never know what's goin' on in a guy's mind :)
Posted by: poopie at May 21, 2006 01:14 PM
I printed one of these out and have it by my computer. At work. These kids you work with...I know it has to have its days, but my god. The possibilities. They seem rather endless. And that gives me more hope in ways I'm not sure quite what to do with it all.
Posted by: Jennifer at May 25, 2006 03:58 PM
Posted by: road apples

at May 25, 2006 08:01 PM
Rapples...you've gone quiet. You haven't been hitting the Bundy Rum have you???
Posted by: Tjilpi

at May 29, 2006 04:07 AM
Wow, this kid has some talent! I love his poems! Like holy cow!
Posted by: Jazz at May 30, 2006 10:38 AM
are they keeping you after class?
Posted by: kim

at June 6, 2006 07:39 PM
That last poem of his is definitely insightful.
Posted by: Tim Rice at June 10, 2006 03:40 PM