« February 2006 | Main | April 2006 »
March 23, 2006
old kitty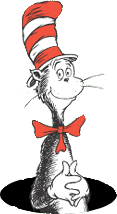 There is a bullentin board on the wall in my Mother's apartment. I must have walked past that bullentin board a thousand times and never really looked at the things she has attached to it. Last night I had a few minutes while I was waiting for my mom to do something - I don't remember what exactly. Every thing she does takes her three times longer than it use to do. But on this eighty-three-year-old's woman's bullentin board was a very profound statement told by a children's fictional character. It kind of says it all and I am retelling it here for you. I did not see any copyright so I hope I am not stepping on anybody's toes.
The Cat In The Hat On Aging

I cannot see
I cannot pee
I cannot chew
I cannot screw
Oh, my God, what can I do?

My memory shrinks
My hearing stinks
No sense of smell
I look like hell
My mood is bad -- can you tell?

My body's drooping
Have trouble pooping
The Golden Years have come at last
The Golden Years can kiss my ass

Posted by roadapples at 05:52 PM | Comments (15)
March 21, 2006
elder blogger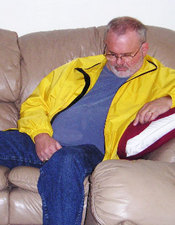 Ronni at Time Goes By has made it official. Yep, I am an Elder Blogger. Funny, I don't remember when it happened. In my mind I am still 21 with the same hopes and dreams I have always had. I am still waiting for the call from National Geographic. They will ask me to go to the South Pacific with an assignment to do a photo essay on some newly discovered tribe full of half naked dark skinned women - or light skinned. I'm not picky.
I guess it was only a matter of time. I will be turning 58 in May and then it won't be long until I reach the big six oh. The letters from AARP wanting me to join their exclusive club should have been a clue that I was getting on in years but I have been resisting the thought until now.
Don't get me wrong. I have nothing against old people. I just don't want to be one. I still have a lot of living yet to do. I don't even have any grand kids yet.
Ok, ok, so I fall asleep as soon as CNN comes on the telly and, sometimes when I walk into a room I forget why I went there in the first place. And I must admit, it is nice when I get a Senior Citizen's discount at the liquor store where I buy my Bailey's Irish Crème.
Still, it is hard to accept that I am sliding into my "golden years". If you banned all mirrors, I would never know what is happing to me. Ignorance is bliss.
My teenage daughter tells she will keep me young - forever I hope. She always knows just what to say to cheer me up.
Posted by roadapples at 10:06 PM | Comments (6)
March 19, 2006
apple cheeks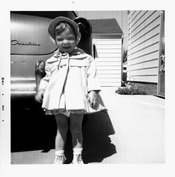 I see Paris. I see France. I see someone's underpants! She was the first of three sisters and two brothers. They played and fought together when they were younger. They are still playing but not so much fighting anymore.
The purpose of this post is two fold. I love old photos, and blogging. Not necessarily in that order. Meg at Mandarin Design gave me some new tools to use. So I am experimenting with the new tools and telling a story about my in-laws at the same time.
Little Miss Muffet sat on her tuffet eating her curds and whey. There came a big spider who sat down beside her and frightened Miss Muffet away.

My sisters-in-law have a strange Christmas custom. They steal objects such as cheese spreaders from each other's homes during the year. It causes all kinds of confusion for the victims because they think they misplaced it and spend the year looking for it. Then at Christmas time, the cheese spreader shows up wrapped in a pretty package. Then they giggle about it for hours.

The itsy bitsy spider went up the water spout. Along came the rain and washed the spider out. Out came the sun and dried up all the rain, and the itsy bitsy spider went up the spout again.
The brothers-in-law don't seem interested in this custom. Any strange customs in your family?

The photo above was taken in 1962. Twenty one years later, that little girl grew up and made me a very happy man when she agreed to be my better half.
The one below was taken in 1966 at my wife's first communion. The yongest sister is not in the photo. She was not born until 1968.
You can click on the photos below and above to enlarge.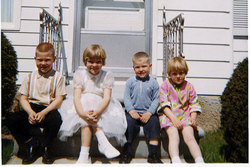 Posted by roadapples at 09:13 AM | Comments (3)
March 18, 2006
hayseed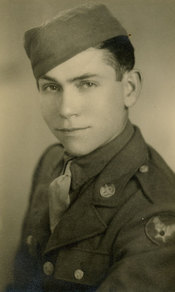 The troop train pulled out of Kansas City at 8 o'clock on a warm July morning in 1944. By 10 o'clock, rolling fields of knee high corn and black and white cows were all he could see for miles around. It reminded him of the family farm back home in Gentry County. His old man said he would miss milking cows, slopping hogs, plowing fields, spreading manure and stacking hay but he doubted it.
Woodson settled into a bench in the back of the Pullman car, put his feet up on the opposite bench, and slipped his hat down over his eyes. Listening to the clickety clack of the big steel wheels of the train, he was drifting in and out of sleep.
Suddenly he felt a knee on his.
"Move it hayseed."
Woodson looked up at a mountain with huge ears and green teeth in a grimy Marine uniform. He swung his legs down and the big man sat across from him.
"You in the Army Air Force eh. I guess they like 'em kind of puny so they can get 'em in those flying coffins. You look kind of young. Does your momma know where you are? Want a chew? It'll put hair on your chest." The big man said as he held out a plug of tobacco.
Woodson did not answer. He looked around the car for another empty seat and spotted one four rows down. He stood up and started to walk when Green Teeth slipped a foot in his way - sending Woodson head over heels in to the aisle. The car erupted in laughter. Woodson picked himself up.
What could he do? Green Teeth was twice his size, he told himself. He had been bullied by much bigger boys in school before and like always he said nothing and tried to ignore the humiliation. But a voice in the back of his head told him that some how he had to take a stand for once. Stand up for himself like a man. He quickly walked out of the car and stood outside on the rear deck.
When the troop train arrived in St Louis, more men in military uniforms were waiting to board for the long trip east where ships were waiting to take them to the Europe. It was a chance for the passengers to stretch their legs.
Woodson walked in to the dark catacombs of the train station. It took a moment for his eyes to adjust to the dim light. On the far side of the center lobby next to the stairs that led down to the lower mezzanine, he could make out the figure of a big guy in uniform arguing with a dark skinned woman. It was Green Teeth. He moved closer trying to figure what was happening.
"By god – I gave you ten dollars you little beggar and I intend to get my money's worth," Green Teeth said as he grabbed the woman by the hair.
With out thinking, Woodson bolted directly in Green Teeth's direction. He lowered his head and shoulders and sent the full force of his momentum into the side of Green Teeth's hip, sending the big man down the stairway. He wound up sprawled at the bottom holding his head. In less than a minute he was on feet. He raced to the top of the steps but Woodson and the dark skinned woman were gone. It all happened so fast that Green Teeth did not know whom it was that got in his way.
Post Script: Many years later, this same hayseed would teach his inept nephew how to use a screwdriver. Remember, he would say, righty tighty - lefty loosey. He was the original handy man.
Posted by roadapples at 09:16 AM | Comments (3)
March 05, 2006
MT hack, recent comments

Looking around the blogosphere, I was rather envious of those sites that displayed recent comments on their Home page. So I did something about it. I bought "Hacking Moveable Type" by Jay Allen, Brad Choate, Ben Hammersley, and Matthew Haughey. Should you decide to buy a copy, I must warn you that it is rather geekie and not for the faint hearted so be prepared to do a lot of head scratching. But the twenty-four hours of torment was worth it when I finally got the Recent Comments in the right side panel just the way I wanted it.
First I "created a new module template" under the module tab in the templates section of MT dashboard. I named it recent_comments.inc - catchy huh?
Then I typed that same name into the field where it says, "Link this template to a file". The text that you type in the screen goes into the database and MT creates a file in the MT directory on your server with the name you type in this field. It took me a while to understand this. It is explained in the book better than the installation instructions that come with MT.
Just as there are lots of ways to skin a cat, there are lots of ways to add recent comments. The authors of this book provided a lot of different examples. I experimented with them all, trying to figure out how they were different. That was the fun part. I settled on the version below.


Then all I had to do was put an include in the Main Index where I wanted the list to show up. The include line looks like this.
Your name for the file might be different. I chose recent_comments.inc
I did find one apparent mistake in the book. On page 20, there are two pieces of code at the bottom of the page. It is rather confusing because the second must be inserted into the first but one tag line is left out. The MTCommentEntry tag goes after the MTComments and of course there needs to be a matching closing tag.
I learned a great deal more than I did know about the inner workings of MT with this book and through trial and error. Maybe next time, I will try writing a plugin.
Posted by roadapples at 08:56 AM | Comments (5)
March 03, 2006
Women's History Month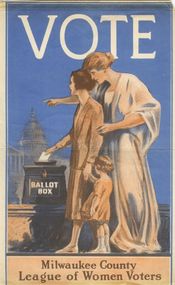 March is Women's History Month. I have never known a time when women did not have the right to vote for people who controlled their daily lives. In the middle of the 1800s when this nation was fighting a bloody civil war over the question of slavery, among other things, women in this country did not have the simple right to cast a ballot for even dog catcher.
On June 10, 1919, Wisconsin became the first state to ratify the 19th amendment granting national suffrage to women. From 1846 to 1919, different groups of women's rights supporters had focused much of their energy on winning the vote, though each pursued different strategies. Although Wisconsin had not been completely unenlightened in its approach to women's legal rights (the rejected 1846 constitution would have given married women property rights), neither had it been on the forefront of the cause. Just seven years before the 19th amendment passed, a statewide referendum on suffrage had met with a resounding two-to-one defeat, so it was in some ways unusual that Wisconsin was the first to ratify federal woman suffrage.
If you would like to read more, here is a link:
http://www.wisconsinhistory.org/turningpoints/tp-032/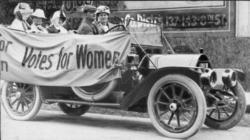 Posted by roadapples at 11:52 AM | Comments (3)
March 01, 2006
hank and dorothy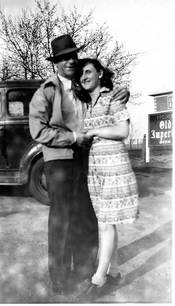 In a Woolworth's shoebox, she saved every love letter he ever wrote to her. A cigar box wrapped with a purple ribbon held the tortoise shell comb and glass beads he won for her at the county fair throwing baseballs at milk bottles. In the top draw of her dresser in a little trinket box wrapped in pink tissue was the rose bud he sent her when she turned eighteen.
A woman like Dorothy does not let go easily, not even when his need to search for greener pastures left her alone. She loved him with all her heart and nothing was going to change her mind.
She was a young country girl still wet behind the ears and barely out of high school from the small farming town of Pulaski. He was a burly good-natured plowboy in his late twenties transplanted to the big city of Green Bay looking for adventure.
They met at a Sadie Hawkins dance at the VFW one night in late June in 1931. They were just two people out for a good time. It started with a slow song and bodies swaying. Then came a pair of strong muscular arms wrapped around a small soft waist. That is all it took. She was smitten. He was not - not yet anyway.
The west was calling Hank. He wanted to ride broncos and wander the pairie living the cowboy life before it was all gone. One day in springtime, he put away his cheese makers license, kissed Dorothy goodbye, and left her standing on the porch of her parent's home.
It took two long years before he finally figured out what Dorothy already knew. His fate and that of his grandchildren was waiting for him in the heart of his little country girl.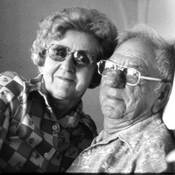 Posted by roadapples at 02:32 PM | Comments (5)