Main
June 25, 2006
summer fun for the handyman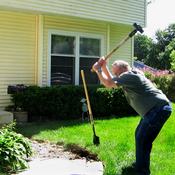 Ah summer is here and now I can have some real fun.
Whether it is frolicking in the yard cutting grass with my magnicent grass cutting machine or pounding the shit out of the front sidewalk, I just have oodles and oodles of delightful summer time activities.
I especially like working up a real sweat cutting the grass. Then I sit down in one of the lounge chairs on the deck and pop open an ice cold Heineken - so cold it gives me a brain freeze.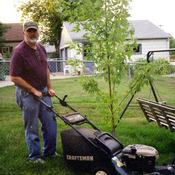 And when the sweat runs down in to my shoes, I take them off and my dog licks my toes.
Finally my wife will slap the crap out of me and I will come back to my senses. You know heat exhaustion can kill.
But no matter because tomorrow I get to climb up on the roof and clean out the eave troughs. Yippppeeee!
Remember men, if they can't find you handsome let them find you handy. I'm pulling for ya; we're all in this together.
Posted by roadapples at 07:01 AM
February 28, 2006
handy man budget

A handy man can't just go spending money willy nilley on anything his heart takes a liking to. He has to be frugal and conserve the family finances for important things like college expenses and such. After all, saving money is one of the reasons to be a family handy man.
A handy man needs to follow sound money management principles. A handy man must show some discipline when he contemplates buying essential tools and hardware for his handy man work shop. A handy man needs a budget to follow.
Below is my budget for fiscal year 2006. I tried to be as conservative as possible and still allow for the vital needs of the household.
Item
Cost
Reason
12 cases of Miller High Life
$164.28
for when it's Miller time.
6 extra large boxes of band aides
$59.70
for small owies
Emergency room stitches
$5,965.00
for big owies
Assorted nails and screws
$5.92
for the screw can
Sports Illustrated Swim Suite Edition
$5.96
for Miller time
Deluxe hot tub with beverage holders
$5,950.00
Miller time of course
1 claw hammer
$7.49
to open the beer cans
1 #2 Phillips screw driver
$6.49
in case I need one
1 #2 regular screw driver
$5.95
to go with the Phillips
Total Budget: $12,754.91
I think that should do it but I might be a tad over. I could adjust the amount for assorted screws and nails. If I left anything out, please let me know in a comment. Us handy men have to stick together!
FOLLOW UP: The wife put the kibosh on the hot tub. I am really bummed out. She told me to change the burned out bulb in the kitchen (that has been out for two weeks) first and then we could talk about a boom box. I wonder if she would go for a 52 inch plasma screen HDTV, Dolby surround sound speaker system, leather Lazy Boy, and a small fridge in the garage?
Posted by roadapples at 07:40 AM | Comments (5)
February 05, 2006
handy man meatloaf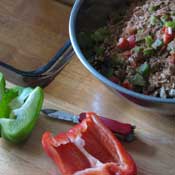 Real handy men aren't just handy in the garage, bathroom, or the basement. They can do more than change a light bulb or glue the occasional broken knick knack for the misses. Real handy men are also handy in the kitchen. But don't expect them to cook or even use kitchen utensils the same as the women in the house.
I am sometimes called upon to lend a hand at weekly meal times and special occasions like Superbowl Sunday. Now usually SB Sunday calls for a big heaping two gallon pot of chili with cheese and onions left simmering on the stove buffet style. But this year, I thought I would make my handy man meatloaf. The usual ingredients are as follows: (I say usual because I never make it exactly the same way twice)
one litre bottle of Bacardi's LIght
two cans of Coke
two to three pounds of ground chuck (ground pork can be added if your are feeling adventurous and don't mind the added grease)
four large eggs
two to three palms of saltines crushed knuckle deep
one green pepper ripped in half and cut up into chunks (seeds are optional)
one puny little yellow onion diced with a dull pocket knife (rust stains on knife are optional)
one bottle of thick barbecue sauce or a half bottle of thin
about five shakes of salt and three shakes of pepper
five to eight shakes of cinnamon sugar
one or two shakes of nutmeg
four to five hand fulls of shredded cheddar cheese (mild or strong - you decide)
one can of mushrooms - strained (small or large can - again, you decide)

Set aside the rum and coke and hand mix everything up in a very large mixing bowl and form into a loaf in a rectangular baking dish. Make sure it is big enough to fit with out any mixture spilling over the edge. For a garnish, place triangular pieces of Kraft processed cheese on top.
Oh yeah, I forgot to tell you to preheat the oven to 400 degrees. But to be honest, I never worry about preheating anything. Place the concoction in the oven and wait for about an hour. Mix up two or three rum and cokes while you wait then get ready to enjoy the best meat loaf you have ever tasted.
For some reason, not very many people will eat this gourmet delight so I have plenty of left over meatloaf. I can then treat myself to meatloaf sandwiches topped with onion slices and Miracle Whip every night at supper time for a week. Uuummmboy now that is good eatin'!
Note: You can subsitute for the Bacardi's if you like. It shouldn't make much difference in the taste - the meat loaf not the rum.
Posted by roadapples at 10:47 AM | Comments (11)
January 20, 2006
loft bed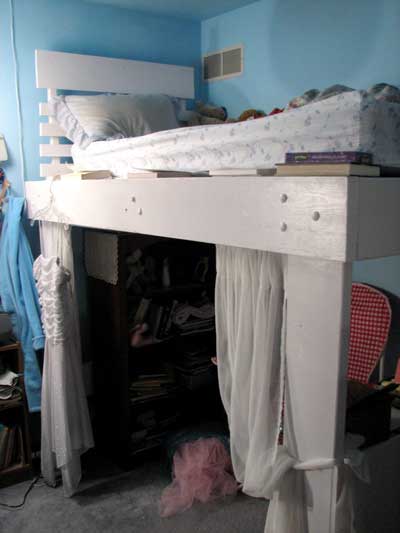 Like Red Green always says, "If they can't find you handsome, let them find you handy." God, I love that show. All those zany characters on that show remind me of my relatives. I would feel right at home around any of them.
I passed handsome some time ago so now my wife must settle with handy. Actually, I am not that handy but I can plug in a power saw and I know which end of a screwdriver to hold. So in that spirit, this is the beginning of what I like to call "the screw can". But my wife pointed out that some people might get the wrong impression. She suggested "the handy man's compendium". I can barely spell the word so if someone has a better name, I would be grateful.
My daughter started to outgrow her room. When the floor became permanently covered with an assortment of dirty clothes, lost homework assignments, candy wrappers, and an assortment of other sundries, she decided to call the Handy Man to the rescue. (uh that would be me) So I searched the web until I found plans for a sturdy loft bed that could be made fairly cheaply. The finished bed is in the photo to the left above.
I modified the design though. Instead of a ladder, I bought an aluminum step ladder from the local mercantile. Then I could use it to change the light bulbs on the second floor instead of hauling one up from the garage.
The plans call for a head board, a foot board, and two safety guards. I only installed the head board so that my daughter could climb onto the bed from the end if she wanted. The wall serves as one safe guard and I did not think she needed the other. It would have been a hassle to take on and off. I figured it would wind up in the rafters of the garage someday anyway so why bother. I know it is not as safe, but she has never had any problems falling out of bed. I know what you are thinking - there is always the first time. My wife already reminded me.
She has room for a book case and chair underneath and her floor is fairly clean at least one day a week - the day before allowance day.
Click below to download the plans in PDF format. I found it at http://familyfun.go.com/decorating-ideas/
And remember, I'm pulling for ya.

Posted by roadapples at 12:09 PM | Comments (1)