« kingston | Main | michelle my belle »
June 25, 2006
summer fun for the handyman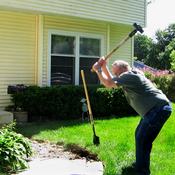 Ah summer is here and now I can have some real fun.
Whether it is frolicking in the yard cutting grass with my magnicent grass cutting machine or pounding the shit out of the front sidewalk, I just have oodles and oodles of delightful summer time activities.
I especially like working up a real sweat cutting the grass. Then I sit down in one of the lounge chairs on the deck and pop open an ice cold Heineken - so cold it gives me a brain freeze.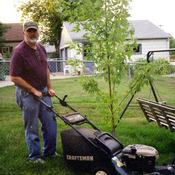 And when the sweat runs down in to my shoes, I take them off and my dog licks my toes.
Finally my wife will slap the crap out of me and I will come back to my senses. You know heat exhaustion can kill.
But no matter because tomorrow I get to climb up on the roof and clean out the eave troughs. Yippppeeee!
Remember men, if they can't find you handsome let them find you handy. I'm pulling for ya; we're all in this together.
Posted by roadapples at June 25, 2006 07:01 AM