« summer fun for the handyman | Main | Summer Wind »
June 27, 2006
michelle my belle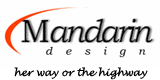 Everyone is a collector. I collect and save the container boxes of the things that my family and I have purchased over the years. I bought my first Norelco shaver twenty-six years ago. It stopped working five years later but I still have the box it came in.
My closet shelves are filled with all manor of cordless telephone boxes, cell phone boxes, shredder boxes, single lense reflex camera boxes, and Coleman camping lantern boxes. There is even an odd assortment of plain generic boxes for which I have long forgotten their original contents or purpose. It is a useless collection.
Meg (her real name was Michelle) of Mardarine Design was a collector too. But unlike mine, her collections were in great demand by bloggers every where. She wrote, collected and shared an assortment of CSS tips and tricks. Many of the design elements you see on this website came from her copious compilation of clever CSS code.
She never asked for anything in return. She never even asked for so much as a thank you. What she got was my friendship and my gratitude.
Meg or Michelle collected more than tips and tricks. She collected the hearts and good will of people from all over the world. She had friends she did not even know about. I was one.
I speak of Michelle in the past tense because she died suddenly this past weekend.
She will leave a big hole in the Internet - a hole that can never be filled. Sure, other people can write CSS tips and tricks for the rest of us less skilled but not with the same wit, warmth, style and grace.
God speed Michelle.

Posted by roadapples at June 27, 2006 11:42 AM
Oh, wow. I had no idea. Her site has been in my favorites for as long as I've been blogging. She was a gem, of the priceless kind. What sad news.
Posted by: Jennifer at June 27, 2006 03:11 PM
Sorry to hear about Michelle.
I suppose I should go through my stuff, too. I've got a collection of cords and wires that probably will never be used again.
Posted by: Fred at June 27, 2006 04:50 PM
yes, friend, i'm sure she knew you as friend.
the beat goes on, and all that. life goes on, and that's a bit easier to say than it was yesterday.
Posted by: kim

at June 27, 2006 05:55 PM
Oh my! I'm so sorry to hear that. I've also been blessed with folks who have taught me how to connect with the world, just because they're kind.
Posted by: poopie at July 1, 2006 02:05 PM