Main
June 13, 2006
busted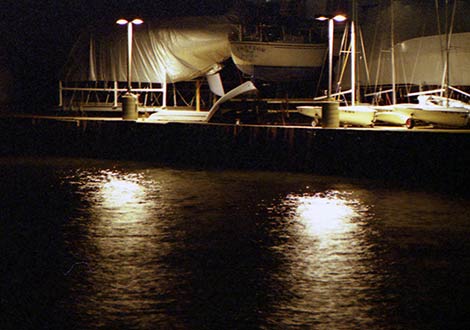 One o'clock and I can't sleep. Do I wake the wife and tell her I am going out and risk making her worry or do I let her sleep in sweet ignorant bliss?
Ever so slowly I shut the door leading to the garage, taking care not to let out even the slightest creak. Bracing against the work bench, I gave a shove and the car rolled silently out of the garage.
Oh crap, I forgot about the slight downhill elevation to the street. But at this time in the morning, there is very little traffic and the Malibu came to a stop against the curb on the opposite side of the street. I was soon to discover that this was not the only detail I forgot to include in my best laid plans.
It was time to search out an interesting place for some night time photos. My first thought was the South Shore Marina only a mile or so from my house. Now I ask you, what trouble could possibly come my way in such an innocent adventure?
I set up the tripod and camera on the short pier opposite the one where they stored the boats over winter. There was a slight breeze coming in from the bay and the moon was a waxing quarter. There was not a lot of light to work with so I would have to use a very long shutter. Taking some practice shots with the digital, I began to experiment with the shutter time.
I did not hear the rustle of the tires on the gravel as the squad car drove up and the son-of-a-bitch had his headlights off.
"OK, show me some ID. You got a driver's license?"
"Sure, sure, officer sir. I have it right here in my wallet. I was just taking some..."
"Yeah, yeah, save your story. Just show me your ID."
"I guess I must have left it on the dresser at home."
"Ok lets go to the precinct station."
"Please wait please. Look I brought my cell phone. Can I call my wife so she can verify who I am? Please. I am a teacher just out taking some night time photos for a class project." It was just a little white lie. I was desperate.
"A teacher huh. You better not be pulling my chain or it won't go good for you! Give me the phone. What's the number?"
"I have it in memory, hold down number three."
"Yes good morning maam, this is Officer Ron Knots of The Milwaukee Police Department. I have someone down here by the marina who says... Yes that's right... Oh I see... Uh huh... Yes maam, I agree, he is a putz... Well, I suppose I could this one time... Oh yes, you mean the kind with double chocolate chips?... Where? Just drop them off at the third precinct on Lincoln Avenue... Ok then, I will be looking for them tomorrow morning. Sorry to trouble you. Goodnight maam."
The officer handed me my phone. "Get your gear and beat it. If I catch you out here again with no ID, you might not be so lucky next time."
"Yes sir and thank you sir. I sure will, sir."
Posted by roadapples at 06:57 AM | Comments (6)
May 10, 2006
pineapple popsickles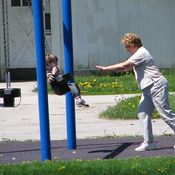 One mile from my home is a park. It is not an uncommon park. Every berg has one. It is where grandmothers go to swing young toddlers early in the day before the teenagers show up with their skateboards and high energy levels.
Where you can watch a good baseball game between the Cudahy Bacon Burners and the Wauwautosa Tractor Pullers.
It is also where the ice cream man goes to sell his frozen treats. When you see him, I recommend the pineapple popsicle.
Julie lives in a far away place across the big pond. No not Lake Michigan, I mean THE big pond. She has this challenge for couch potatoes like me. It goes like this: walk a mile from home every day and document it on a blog devoted to the challenge.
I accepted her offer without thinking of the consequences - the time, the pain, the frustrations of trying to come close to her wonderful illustrations. She is the master.
Here is her site - go and enjoy. One mile a day
You can click on the images to enlarge them.

Posted by roadapples at 09:46 PM | Comments (4)