Main
February 25, 2006
note in a bottle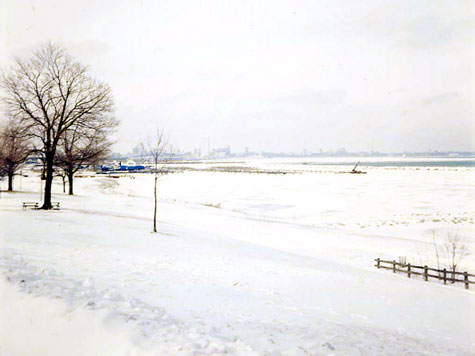 The tall office buildings in the Milwaukee skyline in the distance were not there in 1895. I am guessing of course but I think it is a pretty good bet. In the late 1800s, the city was primarily a shipping port. Among other things, lumber, beef, corn, wheat, and dairy products went out and coal, finished products and dry goods usually came in.
But in March of 1895, something else came into this port. It was small and almost missed. If it had not been for a certain Mr. Randolph I would not have a story to tell.
The steam freighter, Frontier Star, was lost during a terrific winter storm in late January of 1895. It was last seen 50 miles due east of the port of Milwaukee in 20-foot waves and 60 mile per hour winds.
Two months later, after the ice and snow had melted on the water, Mr. Randolph was walking his sheltie along this stretch of shore and came upon a wine bottle. The opening of the bottle held a cork. Thinking he had found a little refreshment to warm his cold bones on such a frigid day in late winter, he picked it up and popped the cork. It came out much too easily. He looked inside and found a note.
"Engines stopped, ship tearing apart, we don't stand a chance. Tell my wife, Agnes McGuffry, I love her. Ships Engineer, Shamus McGuffry."
The note did not mention the ships name but it was generally assumed to be from the ill-fated freighter, Frontier Star. Trouble was, nobody knew an Agnes or Shamus McGuffry nor could they be located anywhere in Wisconsin or Michigan, where the freighter was home-ported.

Posted by roadapples at 11:10 AM | Comments (2)