« fatherhood | Main | I'm mad as hell and I'm not going to take it anymore! »
April 10, 2006
fine wine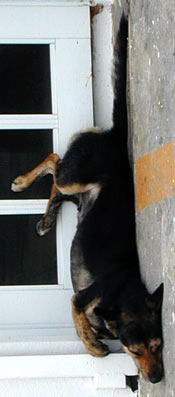 That old dog could damn near drink his weight in wine. He didn't come by it natural but, when given the chance, he lapped it up faster than a wino after a three-day dry spell.
He was a big good natured mongrel dog left by the side of the road when his owner no longer needed or wanted him. Who knows why? Maybe he crapped on the carpet one time too many.
He must have been on the street for while because every bone in his body was visible and a spot of mange was beginning to creep up the side of his left hind leg. He was as skittish as a field mouse and afraid of his own shadow. He coward when he saw Bobby Jones and me. But after a little coaxing with a breakfast sausage, he came to us.
I was a straight A student before I met Bobby. Ok, so I sneaked smokes in the boys bathroom like all my peers. The Marlboro Man represented my idea of manhood - him and Elvis that is.
A man of short stature kept me on the straight and narrow. Like Napoleon, my stepfather had a classic case of what psychologists call a small man syndrome. He welded an easy left hook and carried a two by four in his right for back up. The last two years of High School, the Drill Sergeant served two consecutive tours in Nam and I had a chance to make up for lost time.
Bobby Jones was as wild as horseradish and trouble always knew where to find him - on the street usually after midnight. I heard unconfirmed tales of him riding down the street in a convertible with the top down, trying to shoot out streetlights with a twenty-two. He was alone and bored.
With his mop of curly blond hair and a trim athletic build, he had his pick of girls. That was the one thing that would grind on me. He had his choice and wanted none and I couldn't score if my life depended on it. Thank god it didn't.
There is one more thing you need to know about Bobby. He was generous and kind hearted to a fault. He took that mangy mongrel dog home and nursed his spirit back to life.
Bobby called him Blackie. At first, Blackie would not eat in front of Bobby and he would not play. The dog would flinch when Bobby tried to pet him. But every day Blackie grew a little less shy.
Six months later, Blackie was eating out of Bobby's hand and playing fetch in the park. He was a different dog. This was end of the school year in 1964. It was a Thursday morning in late May. Bobby called me on the phone before I left to catch the bus.
"Want to skip school today", he asked.
"Are you crazy? We skipped last week Monday. Okay but you call in with the excuse this time. I think the secretary knows my voice."
I remember a wild ride through the Georgia back country with Blackie's head hanging out the window. There was two bottles of wine smuggled out of the liquor cabinet that stood in the corner of Bobby's living room. His father loved fine Italian wine and we were developing a taste for it too.
Being the generous soul, Bobby decided that Blackie should join in the fun. He poured a dish full of wine for Blackie. After about six good gulps, the bowl was empty. Blackie sat waiting for more - more he got.
Blackie's eyes grew bloodshot. His tongue hung down at the side of his mouth. When he trotted, his hind legs would move around to the side of his body until he was going in two directions. He finally went to sleep in the doorway with a nice smile on his face. He slept with out moving the rest of the afternoon and in to the evening.
The next day, Blackie was back to his playful self. Bobby went to school. When he got home in the afternoon though, the dog was gone.
Bobby sat food out on the front porch for another six months but it was no use. I have not seen or heard from Bobby since he was married in 1974 and, as far as I know, he never saw Blackie again.
Posted by roadapples at April 10, 2006 09:13 PM
Oh, the poor dog. Some people would call that animal abuse. I wonder what ever happened to him?
Posted by: kenju at April 14, 2006 10:36 PM
prolly went off to start a career writing novels. it often begins that way.
Posted by: kim

at April 16, 2006 12:14 PM
You, sir, do weave a fine tail.
Erm, tale, even.

Posted by: Jennifer at April 16, 2006 01:28 PM
kim: I think you may be right. I think I heard that he ghost wrote the screen play for Turner and Hooch.
Judy: You are right, some people would. Maybe kim has the right idea.
Jen: Thanks and my doggy thanks you too.
Posted by: road apples

at April 19, 2006 10:41 PM
Heh...great story. My dogs prefer beer :)
Posted by: poopie at April 20, 2006 09:33 AM
Hey Dad...
Thanks for bringing the family down to Clemson for a visit. It was really fun seeing you guys.
Posted by: Paul at April 20, 2006 03:53 PM
If dogs can get drunk then I can get drunk and wear red undies on my head too - can't I?
I'm sure your tale of Bobby and Blackie [and you] could be expanded into a saleable short story. Poignancy is the word.
Posted by: Tjilpi at April 21, 2006 03:30 AM
Fascinating story but with an ending that leaves the reader wanting to know more. :)
You write good human interest stories.
Posted by: Tim Rice at April 22, 2006 09:49 AM