« girls night out | Main | fine wine »
April 09, 2006
fatherhood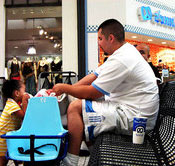 Click to enlarge.
With a suspicious eye, he watched me as I retrieved and pressed the On button of my Canon. He watched as I sat there playing with the knobs and menus trying to look innocent. He watched me as I opened the monitor door, swing it to a right angle to the camera and point the lens in the young father's direction.
The moment was so reminiscent that it was impossible to resist the temptation. I knew his male companion would not approve but my finger pressed the shutter anyway.
The mother was busy with an older child shopping for clothes in one of the boutiques in this mall and the younger ones were left in his care. I think the male companion looking over his shoulder was most likely his brother.
Posted by roadapples at April 9, 2006 09:02 AM
Bonjour Claude. I am happy you stopped by my humble place in the American midwest. Milwaukee is no Paris but it's home and I am glad you liked this photo. It is a favorite subject of mine.
Posted by: road apples

at April 9, 2006 07:57 PM
if memory serves me well (yeah, well, anyway) i seem to recall that claude was one o' them illini people for awhile. which, like, i don't hold it against her or anything.
Posted by: kim

at April 11, 2006 10:47 PM