« everything looks great | Main | snowmen »
December 10, 2005
we'll take 'er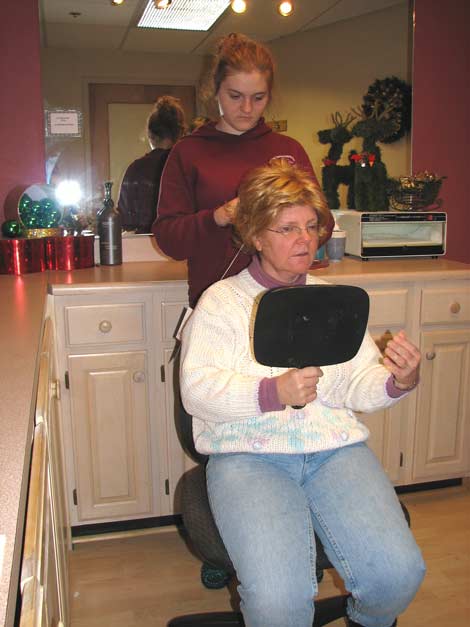 We here it is; Fuzzy. Click here for a video of Sandy trying it on for the first time in the wig shop. What do you think?
Posted by jhyden at December 10, 2005 03:34 PM
Hey! I think you look great Sandy! All you need now are some Foster Grants and you'll be ready for the big screen! No kidding...I do think you look very nice.
Love,
Tish
Posted by: Tish at December 10, 2005 04:48 PM
That looks amazing!!!!! I always knew you would look great in short hair. And is that Breanna playing hair stylist? Good with food and hair….that girl is going to be rich.
And, John, if we get a camel, you will definitely get a gift from Goodwill. Actually, I think you could get a gift from Goodwill anyway…hey, Lori, give me a ring, John just won a gift from Goodwill.
This X-mas is going to be a blast. Hugs and kisses – Mike and Sally.

Posted by: Mike and Sally at December 10, 2005 06:05 PM
Posted by: Joe at December 10, 2005 06:26 PM
Hi Sandy,
Jimmy and I think Fuzzy looks fantastic on you. Otis and Sadie think Fuzzy is "Arf Arf Arf Arf." That means the twins think Fuzzy is awesome looking on you. We love you lots.
Lori, Jimmy, Otis and Sadie
Posted by: Lori at December 11, 2005 10:59 AM
Sandy, you are amazing. Your daughters are super amazing. You are very blessed. That is so cool. Thanks Sandy - you are truly awe inspiring. Your family is. Happy Holidays. Mary
Posted by: nwiden at December 14, 2005 06:51 PM