« the shower cap | Main | turtle sundae »
July 28, 2005
walking chuck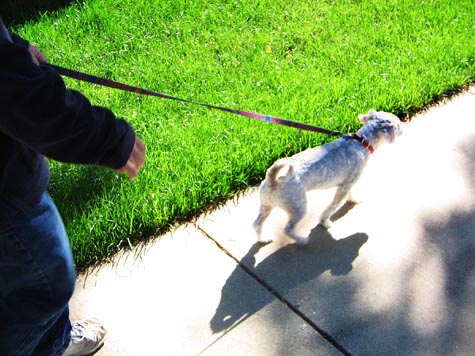 Yesterday Sand and I went a little further and took the dog with us. It was a beautiful morning with a cool nip in the air that was refreshing after two weeks of hot humid weather. Sand did not even get tired out after wards.
Sandy wanted her hair trimmed but did not want to go the hair dressers. She did not want to have to explain why she had a scar that runs from ear to ear across the top of her head. So daughter Breanna offered to do the job.
The physical therapist came by yesterday. She told us that Sand was doing so well she did not need any physical or occupational therapy. She still needs some speech therapy but will need to do that on an outpatient basis. She still has a little trouble speaking the words she is thinking. She also has a little problem with her judgement and cognitive skills.
Sand is a little apprehensive this morning about her first visit to the radiation oncologist's office Monday. Please send her encouraging comments; she does read the comments and they do put a smile on her face.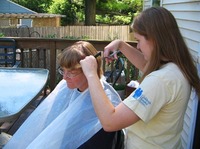 Click to enlarge.
Posted by jhyden at July 28, 2005 08:28 AM