« busted | Main | kingston »
June 18, 2006
father's day card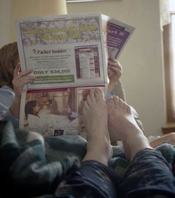 On the table beside the plate of pancakes and bacon my daughters made for me this morning, was a Hallmark card they picked out. I was so taken with it that I had to share it with you.
Happy Father's Day to Paul, Kim, Greg, Fred, Euclid, Strode and all the other fathers out there.
I will be spending the day watching and burning old movies from Turner Classic Movies on the new DVD Recorder my family gave me. I have to be careful; this new toy is quickly taking over my life. Got to go - Abbott and Costellow Meets the Mummy is on!

Ten Things We'd Like To Hear Dads Say

1. Could you turn your music up louder so I can enjoy it, too?
2. Curfew is just a general time to shoot for. I'm not running a prison!
3. I don't mind air-conditionaing the whole neighborhood! Leave the door open!
4. Holding this remote is such a burden. Somebody else take it for a while.
5. Looks like we're lost. I'd better stop and ask for directions.
6. Make all the racket you want. I can sleep through anything.
7. My tools are ylour tools. Help youself.
8. Your taste in clothes is quite remarkable.
9. While I'm gone, please feel free to invite all of your fiends over.
10. Your chores can wait. Go have fun!

Posted by roadapples at June 18, 2006 09:58 AM
Happy Father's Day to you, too.
I don't expect to be saying anything on your list, btw. My kids would pass out if I said anything like that to them.
Posted by: Fred at June 19, 2006 01:59 PM