« christmas '52 | Main | sailor boy »
December 25, 2005
robots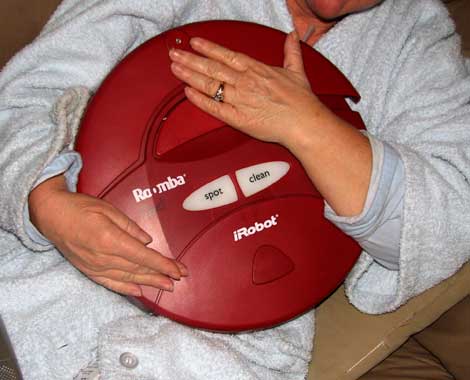 Here we sit Christmas day in our jammies watching this marvelous little toy my wife received in the post from our son Paul. It scampers across the floor and whirls around. It sounds like one of those remote control cars I bought my boys when they were youngsters. It has a little robot sound when it starts up and it has lights that blink and it can back up when it runs into something.It reminds of the song, Marvelous Toy, written by Tom Paxton and recorded by many artists including John Denver. The refrain goes like this:
It went "zip" when it moved,
"bop" when it stopped,
and "whirr" when it stood still.
I never knew just what it was
and I guess I never will.
We sit and watch it for hours and there is even a bonus. According to the literature that came with it, this marvelous little robot vacuum cleaner picks up dirt from the floor as it travels along. Yes ladies, I said vacuums the floor. My wife is absolutely giddy with joy. It is called a Roomba. I will post more when I discover what else it can do. I am hoping it will do windows and cut the grass in the summer. Click here for a video clip (4megs).
My wife gave me a bottle of cologne for Christmas. It is called Polo and my daughter tells me it smells like old sweaty horses; finally, I have a fragrance befitting a man.
For those of you still curious about the song, Marvelous Toy, and would like to listen to a short piece of it, click here (760kbs).
Posted by roadapples at December 25, 2005 11:09 AM
Let's hope it can let the dog out and get you another beer. Then we'd be getting somewhere.
So what do you like to write about matey?
Posted by: Pirate at December 25, 2005 05:23 PM
P: Letting the dog out and fetching a brew would surely be a good thing Pirate.
What do I like to write about, you ask. That's a very good question. I like writing about friends, family, my students, my dog, the neighbors, and strangers. I like looking for situations where the characters have been marginalized in some way - left at the side of life's highway so to speak. That leaves me a lot of latitude don't you think?
Posted by: road apples

at December 25, 2005 07:08 PM
I will try hard not to be jealous; I want a Roomba too! Hope you had a Merry Christmas.
Posted by: kenju at December 25, 2005 10:40 PM
I thought it was a game we used to have...called Simon.
I haven't heard about this vacuum robot thingy before. What will they think of next?!
Posted by: colleen at December 26, 2005 11:08 PM
I want one of those.
But I would put my roommate's cat on it instead of actually cleaning anything.
Posted by: Crystal at December 28, 2005 10:02 AM
c: does the cat like a wild ride like Mr. Toad?
Posted by: road apples

at December 28, 2005 06:07 PM
Double dipping the post, eh? :)
Posted by: Paul at December 28, 2005 09:52 PM