« turkey day | Main | Five inches of new snow »
November 27, 2005
wig shop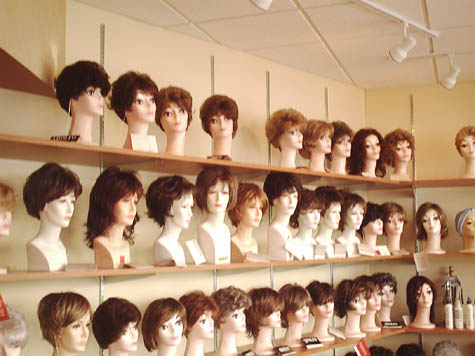 Her eyes were still red when I came down to breakfast. "Are you sure I am ready to go back to school?", she asked. I knew what she meant. It was not a question of her competence as an elementary teacher. She is back to her old self. Her memory is as good as it ever was and she has regained the confidence she needs to lead children in learning activities. Additionally, I have no doubt she can handle any discipline problem that might arise in her classroom.
Her appearance concerned her. Although she still has plenty of hair at the back half of her scalp, Sandy's hair loss is significant at the front of her head. She was afraid of how the children and adults would react to her or the things they may say behind her back. There is a chance Sandy will grow much of her missing hair back but she is going back to school in about a month and she needs something to boost her self image. The solution was obvious. We needed to make a visit to the wig shop. This was not an easy thing for Sandy to do. Under normal circumstances, a wig is no substitute for real hair. But these are not normal circumstances.
Breanna, Erin, Steven and I went with Sandy to the beauty shop in New Berlin where they also specilize in synthetic hair pieces for cancer patients. We each had a turn picking out one for Sandy to try on. After about forty five minutes, Sandy had two picked out. She selected a short "bob" and a long one with a fashionable layered look, or so I was told by the female members of the group. What do I know about hair? She should have them by next Saturday and I will post a photo of Sandy's new look then.
Photography in the wig shop was done by Erin.
Posted by jhyden at November 27, 2005 02:03 PM
Posted by: Sharon at November 28, 2005 08:20 PM